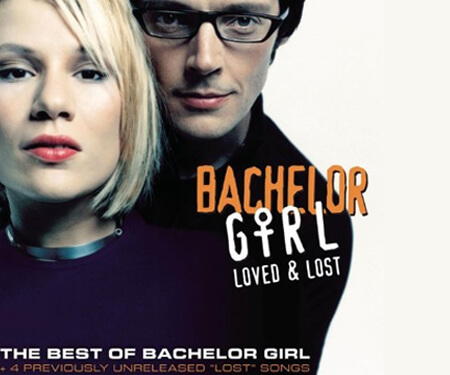 April 2011 : Bachelor Girl's greatest hits combined with four previously unreleased "Lost" songs.
Bachelor Girl's third album was nearly finished recording when their record company, BMG, merged globally with Sony Music. In the corporate shakeout many artists' recording contracts were dissolved, including Bachelor Girl's. Now some of the band's hard work sees the light of day.
Thirteen of the band's favourite songs, including all the hits, plus four songs from the unreleased "Lost" third album
"Come Undone" is a rarity, featuring only on the 1999 Duran Duran Aussie covers album "Undone". The album included artists such as PowderFinger, Kylie Minogue, Something For Kate, The Living End and Custard.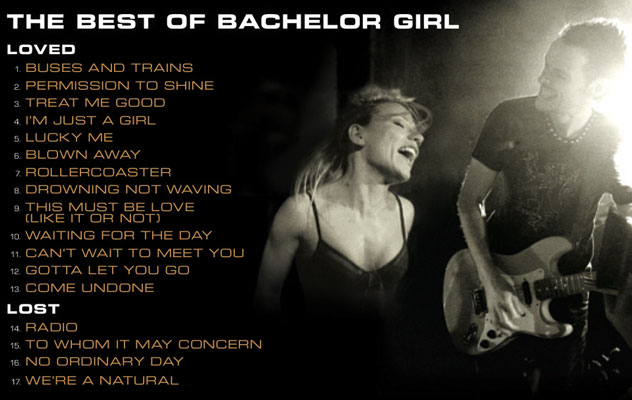 New Tracks
Radio
Written by an old mate of James and Tania's, LA-based Aussie Aaron Hendra. The song was recorded by both Hendra's band Supanatural and Bachelor Girl. Fate played a twisted game and both albums were never released. Now this song, which speaks of the power of well-loved songs being heard once again on the radio, gets its chance.
To Whom It May Concern
Many people are waiting for that 'someone' to share their life with. "To Whom It May Concern" sends a wish-list and tender invitation out into the world, like a message in a bottle. For anyone who would love to be someone's "Your's Truly".
Co-written by Roche and Doko on a songwriting trip, it captures the essence of being ready, willing and able – ripe for love and the adventure it offers.
No Ordinary Day
It was no ordinary day that Doko and mates Irwin Thomas (aka Jack Jones) and Rusty Brown wrote this song on a bright sunny Winter's afternoon in Melbourne. Most people can relate to the early morning other-worldliness after a joyous, unexpected, sexual debut of a new relationship. Captured perfectly in this lyric, the sweet tang of adrenalin, lack of sleep and quiet excitement becomes beautifully present.
We're A Natural
Inspired by the Byron Bay surroundings Roche found himself in on a writing trip in 2003, this hippy and spiritual lyric captures the earth-child's vision of perfect simplicity. Warm sand and deep twilight after a perfect beach day birthed a happy, energetic celebration of life au naturel. One of the hit singles from the band's first album, "Lucky Me" carries a humorous theme of anti-materialism, and this new song bookends it with a message of raw simplicity.