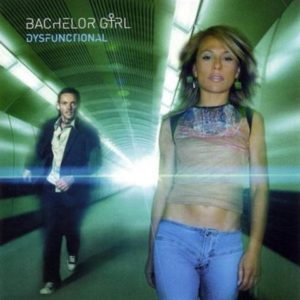 The second studio album by Australian band Bachelor Girl, released in Australia through Gotham Records on August 5, 2002. "I'm Just A Girl" – The first single released off of 'Dysfunctional', reached #3 on the Australian Airplay Charts.
Bachelor Girl can do a lap of honour for their efforts, writes Alison Barclay in 2000.
If they were Olympians, Bachelor Girl would be distance runners. ARIA awards are heaped on them, platinum discs shower them and radio has a raging appetite for their songs. In fact, they've caused tremors by announcing, in the middle of recording their new album, that they're leaving town.
James Roche and Tania Doko are bursting with pent-up lyrics. They have to go. Only in the serenity of Daylesford can they listen to the music within. "Our manager is scared we will write lots of peaceful, gentle songs," Roche says, deadpan.
Bachelor Girl Dysfunctional Drowning Not Waving Film Clip
The follow up to their first CD, Waiting for the Day, is being created in a studio in Melbourne. But it has yet to gain 12 songs perfect enough to please its pernickety makers. "Works of art are never finished before they're finished," Roche says, "so it's hard to talk about them during the process because it's hard to know how it's going to turn out."
Doko is calm about the final laps. "Because we have done it before I think the recording process will be faster," she says. "The first record, we took all our lives to write it. But we would like to have a single out next year. That's our 100m sprint. I guess we're going for gold. "Actually," she says happily, "platinum is more than gold in the record world."
Platinum is glittering fate of Waiting for the Day, which sports four top-40 singles and a huge radio hit, Permission to Shine. With its rousing exhortation to strive and achieve, Permission to Shine has become an unofficial anthem for the Sydney Olympics. What perfect timing. It also happens that when the Olympic Torch arrives in Melbourne on Saturday, Bachelor girl will be there to herald its coming. Joining them at Flemington Racecourse will be hundreds of performers, including Aboriginal dance troupe One Fire, Vietnamese lion dancers, African and Uruguayan drummers, military and police bands and Victoria Chorale, all egged on by TV's Denise Drysdale and David Johnston.
Doko plans to save Permission to Shine for the last song of the set. Permission to Shine sits comfortably among Bachelor Girl's lyrics of keeping one's head above frustration, so it's surprising to discover the pair did not write the song but found it through their US record company, Arista.
Bachelor Girl Dysfunctional promo photo
"It suited our style very well and, really, our message, and I think our decision was the right one considering how well it was received," Roche says. "We received a really moving letter recently from someone who was close to taking their own life and this song changed their mind about that. He says it's a constant source of encouragement for when depression strikes.
"It's an incredible pay-off, to record a song and change the life of someone we haven't met."
The two usually agree on what makes a song work. For Roche, the writing process feels as if "a hole opens in your skull and a song pours into it".
"That's the easy part," he says. "The hard part is finishing it."
Like a marathon?
"I have a lot of sympathy for athletes and the striving they do," he says, "because unlike the rest of us, who have every day, every week of our lives to progress, they have this moment in space where they have to excel. They have 10 seconds to run 100m and that's it.
"If Tania and I have a bad gig, we can do another gig next week and have a good time. Athletes don't have that."
TRACK LISTING
I'm Just A Girl (Written By J.Roche)
Drowning, Not Waving (Written By J.Roche)
Rollercoaster (Written By P.Thornalley & M.Lewis)
Walking With Shoes On Fire (Written By J.Roche & T.Doko)
Can't Wait To Meet You (Written By J.Roche & T.Doko)
Shaping My Universe (Written By J.Roche & T.Doko)
Why Wait? (Written By J.Roche)
I Am Myself (Written By J.Roche & T.Doko)
Falling (Written By J.Roche & T.Doko)
Nothing At All (Written By J.Roche & T.Doko)
Last Thing (Written By J.Roche & T.Doko)
Drowning, Not Waving (Remix) – Hidden Track Following 'Last Thing'